Have a question or want to order?
Send us an email and we will be in touch!
info@langtonscarves.com
First class shipping for one scarf is $5.
Langton's Scarves are now available at:
Out There Antiques, Booth #35, 6410 US-1, St. Augustine, Florida
You can view some of our current products below.
Follow us on Instagram: @langtonscarves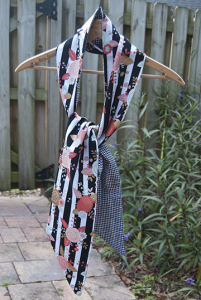 The O'Keefe
Pop flowers & houndstooth – black & white
100% New Cotton with Gold Metallic
100% New Cotton Flannel
68″ x 6″
$28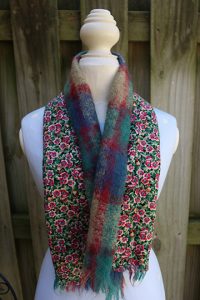 The Armstrong
Phlox & Plaid – green
New Blend: 55% Rayon & 45% Cotton
Vintage Scottish Scarf by Mulberry:
70% Mohair & 30% New Wool
46" x 7 3/4"
$40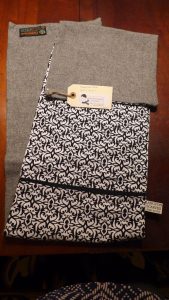 SOLD – The Tweedle-Dee
Scroll & Wool – black, white & grey
Vintage Scottish Scarf by Tweedvale:
100% New Wool
New 100% Cotton
50" x 9 1/2"
$28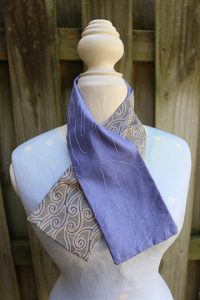 The Marquis
Swirls & Silk – lavender
100% Repurposed Silk
100% New Cotton
33" x 4.5"
$21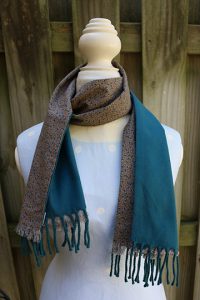 The Moonberry
Moonberries & Fleece – teal
100% New Cotton
Vintage British Scarf by David Barry:
100% Cashmaire Acrylic
54" x 10.5"
$30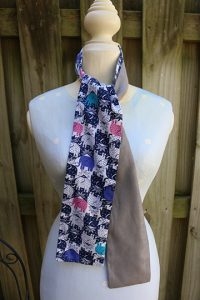 SOLD – The Babar
Elephants & Suede – blue & grey
New Old Stock Cotton Blend by Joan Kessler
100% Poly Cuddle Suede
59" x 4.5"
$26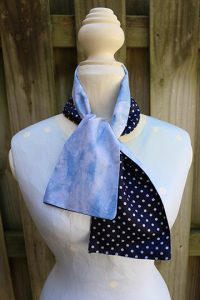 Preppy Meets Hippie
Dots & Tie Die – blue
Salvaged Vintage Acetate
100% New Cotton
38" x 5.25"
$22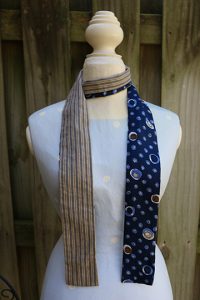 Pillow Talk
Nightsky & Pillow Ticking – blue & tan
Repurposed Silk
100% New Cotton
64.5" x 2.75"
$23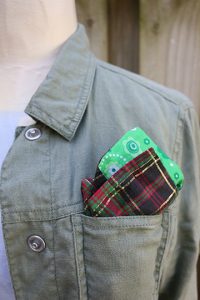 Holiday Bizarre Pocket Square
Red, Green & Black Tartan
Salvaged Kelly Green & White Cotton
15.75" x 15.75"
$14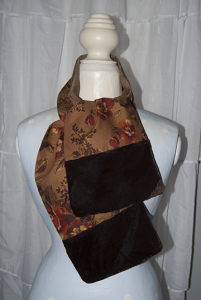 SOLD – Roses, velvet & linen in brown
One Side: 100% new cotton & 100% new triple velvet  • Other Side: 100% new old stock linen
51.5″ x 7.5″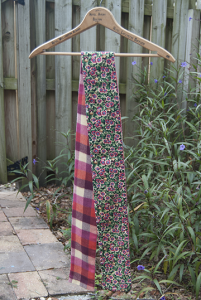 SOLD – Phlox & plaid in pink
One Side: 55% Rayon & 45% New Cotton by R. Kaufman • Other Side: 100% Softer Than Cashmere? Acrylic by D&Y Repurposed fabric
59″ x 5.25″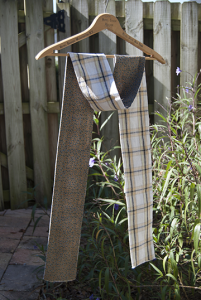 SOLD – Moonberries & plaid in blue
One Side: 100% New Cotton
Other Side: 55% New Linen & 45% New Cotton
73″ x 4.25″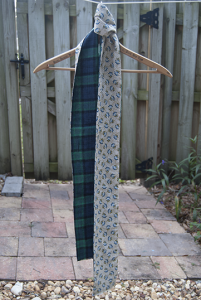 SOLD – Lilies & plaid in blue
One Side: 100% New Cotton
Other Side: 100% New Cotton Flannel
75.5″ x 4.25″
$20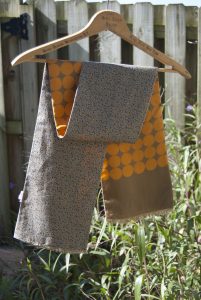 SOLD – Moonberries & dots in green
One Side: 100% New Cotton
Other Side: 100% Acetate,
Repurposed vintage fabric from Spain
49″ x 7″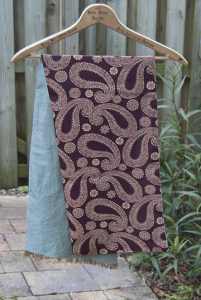 SOLD – Paisley & silk in maroon/blue
One Side: 100% repurposed vintage acetate
Other Side: 100% new old stock
dupioni silk from India
44″ x 11″